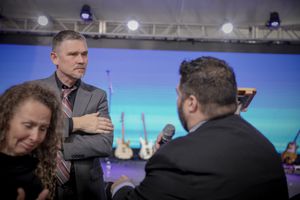 I want to take the time to personally thank all of you at GVBC for your love, generosity, and compassion for people. 
As a man who Pastored for over 19 years full-time in a denomination that claimed to be the Restored New Testament Church I never found one that was like GVBC. 
We tried to implement a lot of what is taught at GVBC but were always met with resistance. 
Finally, after 19 years of that, I Woke up and realized what a mess I was in and resigned from my post, and came home back to Northeast, TN. 
The first year was great, but then in years two and three I let the enemy creep in, and before long I became a man that I no longer recognized. I went from a Pastor/Preacher that studied His Bible 4-6 hours every day for nearly 20 years to one who would just look at it on the shelf beside my bed amongst many other books I had. 
Occasionally I'd pick it up look at it, feel the leather, open it up and read a verse then lay it back down, and might not pick it back up again for weeks. I knew better, but I was oppressed by the Spirit of Religion and doubted that God would ever use me again. 
I'd go to church some but just could never get involved. My candle had grown dim. 
Around November 2021 I started getting back into Church somewhat regularly again, but still, something was missing. 
I went with my friends, the Browders to a Church in Jay, FL. That night before we left the Pastor prayed over me and Prophesied that God would begin to restore me to ministry but in a greater way than before and even to a level that would shock many who knew me in my past. That prophetic word that was spoken over me later in the year would be spoken again 2 other times before coming to the Deliverance Conference and another 4 times while at the deliverance conference by people who I'd never even met before. That's 7 times the Word of God has spoken to me about the same exact thing regarding our ministry and work for the Lord and His Kingdom. I say this with utmost humility. 
I had no idea how that would look or even how that would begin to unfold until God spoke to me through my wife. I'll mention this again below. 
But thanks be unto God that in Gatlinburg, TN I met a man named Greg Locke, Pastor GVBC, and David R. Harrison with Voice of Hope Ministries. 
I sat there and listened to them proclaim the Word of God and share Testimony that brought me hope and that has truthfully helped me get to this point where I can share my Testimony with you and others. 
GVBC has been a Godsend to me and my family. 
I cannot thank you enough. You've shown me love well beyond my worth. 
We first came to GVBC in February this year, then again in July, and just recently attended the Deliverance Conference. 
As I sit at my desk writing this out I am overwhelmed by the presence of Almighty God through His Holy Spirit. Since we left GVBC a lot has happened already. 
Before we ever got back home I received a text message from my employer that I was to not return back to work. While this was not in our plans to do so, it was said to me that this would happen, I just didn't know how soon. 
Later that night my wife and I prayed together in the most beautiful way ever. I heard her finally pray out loud. In her prayer, she confessed that in 2019 when we left a full-time ministry that she told God she would never do His work again. She was done. She repented of that and then told God that she would support me 100% because she recognizes that the Work of the Lord is my sole passion in life. What a blessing to have the support of my beloved, beautiful wife of 21 years by my side in full support of the work that God has called me to. 
I know nothing else other than being a Servant of the Highest Holy God. I don't fit in with the World. I'm God's man and His alone. 
Had GVBC and Pastor Greg and a few others not come into our lives when they did, my life would not look like it does right now. I'm grateful for a church like GVBC that is willing to go out of its way to love people like me. I felt like a failure. I now have my identity back, my passion has returned and God is moving. 
I love you Global Vision Bible Church because you Love God More Than Yourselves Because you have a Pastor who stands for what is True. I pray that my life will be the ultimate expression of my gratitude towards you all by standing firm in the faith and never backing down when it comes to the Word of God. 
My wife was immersed in the Holy Ghost this past weekend and GVBC and three of our Children were baptized in that beautiful horse trough this year. I can't thank you all enough. God used you to save my life, our marriage, our kids, home, and our ministry. I love you! 
God used you to help me see where I was headed and that I needed to snap out of it, experience Repentance again, Deliverance and just jump out of the boat and Walk in Faith. 
Oh, and Pastor Greg, you are going to need a bigger tent! What God is fixing to do at GVBC will blow your minds even more! He's a big God, and He Loves You because You Show His Love To Others! 
Your Brother In Jesus and Eternal Friend in the Faith, 
Joshua David 
Evangelist