Preparing For Spiritual Battle 
Original Author Pastor Jason Boggs, Revised, And Updated, And Adapted 
Almighty Heavenly Father, Your Warrior Prepares For Battle.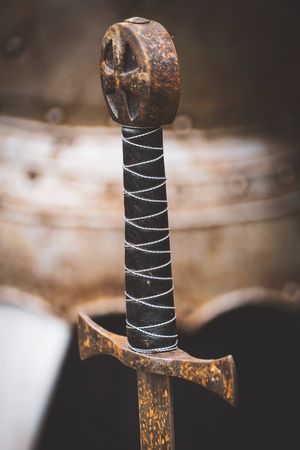 Today I claim in the name of Jesus Victory over satan by putting on the whole armor of God! 
In Jesus Name I Put On… 
The Girdle of Truth! 
 May I always stand firm in the truth of YOUR WORD so that I will NEVER Be A Victim of Satan's Lies. 
I Put On The Breastplate of Righteousness! 
May it always guard my heart against evil so that I will always remain pure, holy, protected, and undefiled under the perfect, ever-cleansing blood of Jesus Christ! 
I Put On The Shoes of Peace! 
May I always firmly stand in the Good News of the Gospel so Your Peace will shine through me and be a light to all I encounter. 
I take the Shield of Faith! 
May I be ready always for Satan's fiery darts of all doubt, denial, and deceit so that I will never be vulnerable to spiritual defeat. 
I Put On The Helmet of Salvation! 
May I always keep my mind completely focused on You so that satan will never have a stronghold on my thoughts or the thoughts of my family. 
I Take The Sword of the Spirit! 
May the two-edged sword of Your Word always be ready in my hands and mind so that I can accurately expose the tempting words of satan my enemy. 
By Faith, Your Warrior Has Put On And Will Always Keep On The Whole Armor of God! 
I am always prepared to live this day and each day following in Spiritual Victory! In Jesus Name, Amen!! 
In the Mighty Name of Jesus, I Command that there will never be any transfer of spirits to me. I draw a Bloodline between myself, my family, and every evil spirit by/in/ and through the BLOOD OF JESUS AND THE POWER OF HIS NAME! Amen. 
Heavenly Father in the name of Jesus your son and my Savior, I bind and break all witchcraft, curses, spells, and all powers associated with it through the Perfect, ever-cleansing Blood of Jesus, The Lamb of God slain before the foundation of the world. I destroy through Jesus the works of every witch, warlock, wizard, sorcerer, familiar spirits, generational curses, and any/all powers of darkness I may be unaware of in the Mighty Name of Jesus, Amen!